Since I operate Mischief & Mouse out of my home, people ask me a lot where I do my work, and if I have a little space in our place that's dedicated to the shop.
I always say "Yes and no." (Well, you'll see.)
We didn't have a lot of space in our little place before I started the shop, so I had to get creative. Case in point: I sat cross-legged on top of our kitchen table to get some of these photos. In October, we carved out a little studio nook in our home so that I could go for it, and it's become one of the most special spaces in my life. 
I want to share it with you.
Now, let's just be real - if I said I didn't tidy up a little before taking these photos, I'd be a dirty rotten liar. But does it really matter if you can barely tell that I did? Controlled chaos, pals.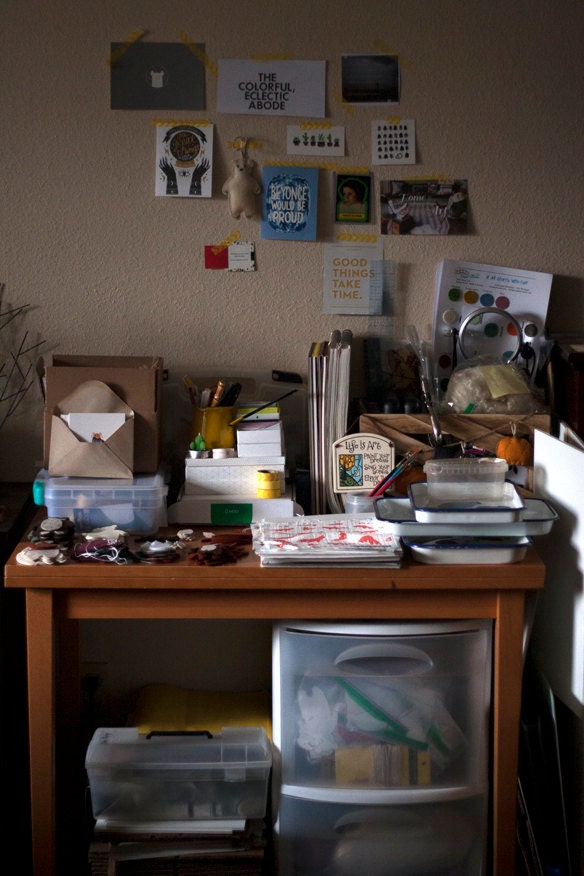 That's it – half a table!  Nestled charmingly between our sideboard and our tremendously discriminating dishes/crock pot/wine collection. While there are a few supplies that are tucked away in a cabinet that I might use on occasion, I keep everything I need to do my daily work for the shop in this little nook - complete with poster boards for product shots wedged on the side. Our kitchen table serves as a workspace when I need to paint.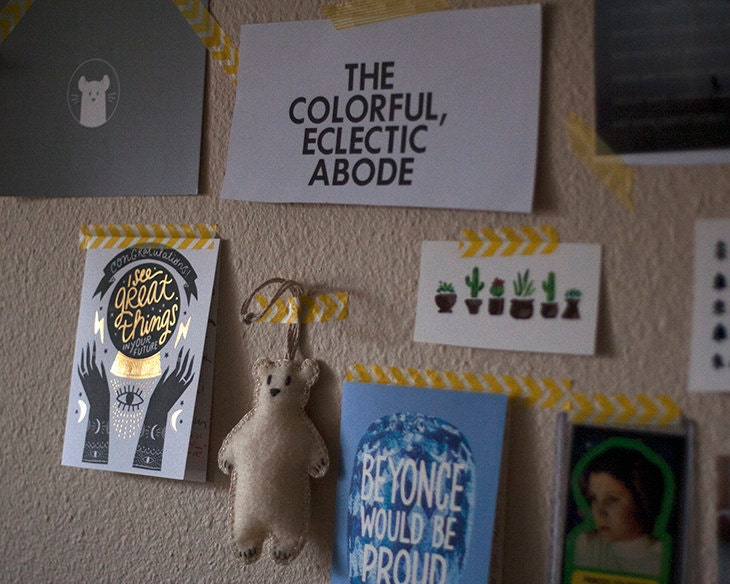 One of my favorite parts about this space is the little things that make their way up to the wall above it. A bit of shameless logo display, a magazine clipping that describes what I've accidentally on purpose turned our little place into, cards from my team when I left my office, little gouache studies, an original Princess Leia card (yeah, that's right).
And, of course, Nanook – the first ornament that I made that we actually kept for ourselves. He lives on the tree at Christmastime, and then comes back to take up his rightful place on the wall after the rest of the ornaments have been put away.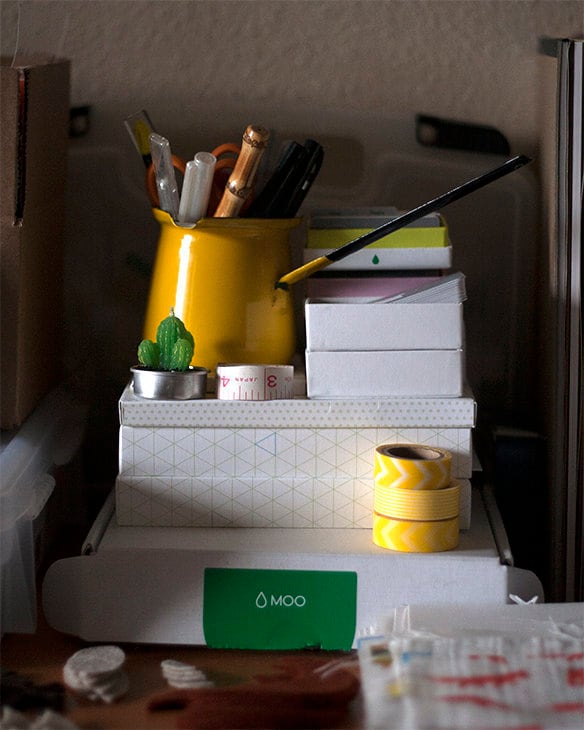 Possibly the most orderly part of this little table – boxes of my tags, business cards, packing postcards, and a mini cactus candle whose name is Frederick. The stack is mercilessly dismantled every time I need something at the bottom, then balanced on top of each other again.
The beautiful yellow Turkish coffee pot was a gift from my friend when I left my corporate job, and I keep all of my everything in it as she had suggested. And you can never have too much washi tape. (Can you guess what my favorite color is?)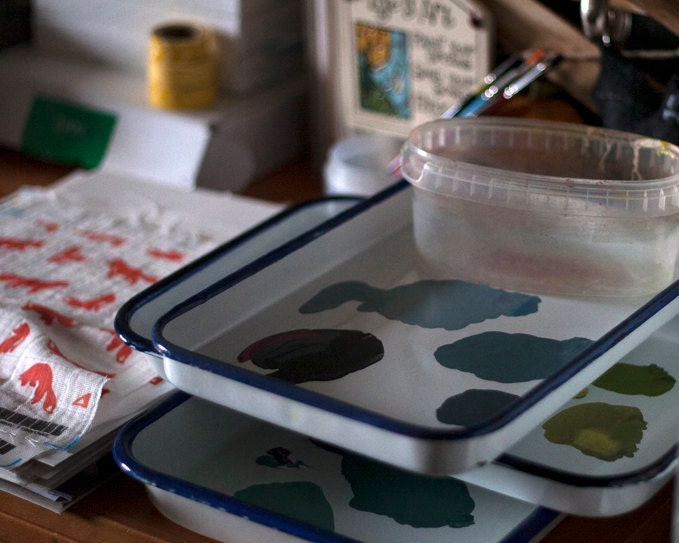 Stacks of butcher trays, full of paint from a project I was smack in the middle of. I've used 2 of them since my studio days in college. I never like to wash them until I'm sure I don't need what I've mixed anymore. So here they sit.
My personal favorite: the salsa container I use as a paint water cup.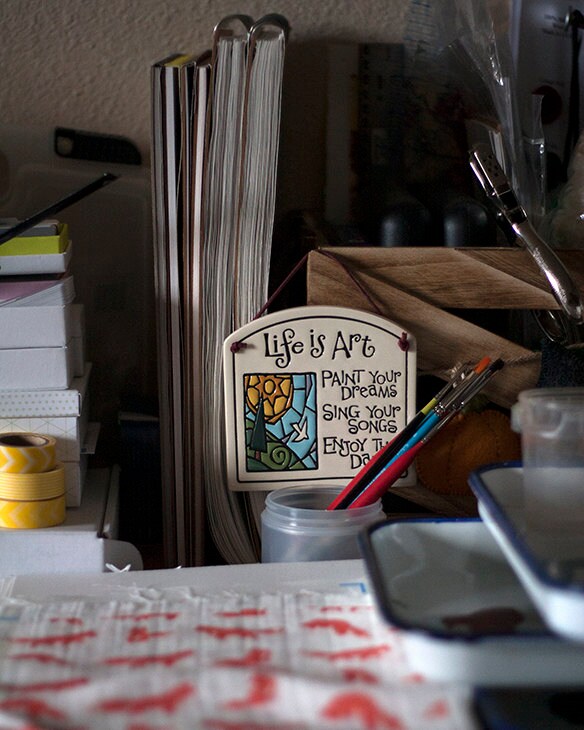 The only way those sketchbooks fit is wedged upright, and I gave up putting my paintbrushes away after every use (I use them too often, which is a wonderful problem to have). Markers and pens and cardstock actually fit really well into that basket thing, if you're good at playing Tetris.
The plaque was a Christmas gift from my mother-in-law, who is also an artist. There are so many artist women in my family, and I'm grateful every day for their support.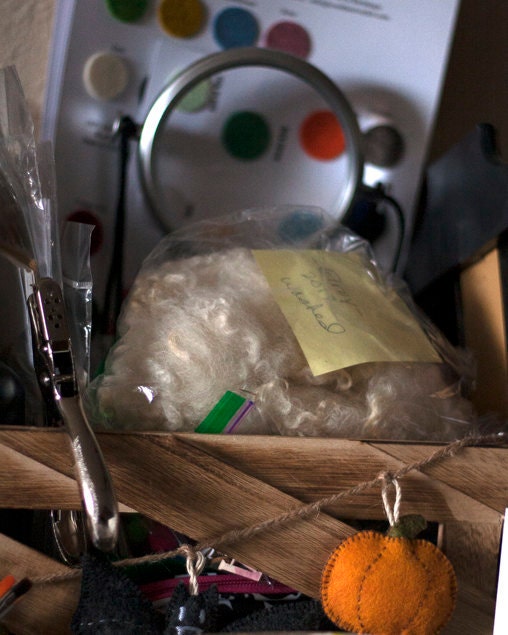 I ended up just stringing last year's Halloween proof of concept across the crate.  Those are wool samples sitting behind my lighted magnifier (Seriously, you string it around your neck. It's amazing and hilarious.).  
Last month, my aunt gave me some wool from one of her sheep (his name is Elroy), and it's just so beautiful. I have it sitting out so that I can think of something wonderful to do with it.
And that's it! 
One of the reasons I enjoyed taking these pictures and sharing this messy, tiny, creative space with you so much is because it reminded me that this shop was something I wanted to start more than I wanted to wait for the space to start it.
And clearly, it's still a work in progress (I think the shipping boxes stacked on the floor and our printer sitting next to the nice stoneware dishes speak for themselves).  
But that's the beauty of it; what this transition is teaching me is that whatever you love and choose to make of that love, if you wait until the perfect moment (when you have the time or the space or the money or the security), you could end up waiting forever.    
You don't have to start with everything all figured out. You just have to start.    
Cheers to a new year, to starting, and to figuring it out as we go.  
xx, Nicole  
----------------------------------------------------------------------------------------
All images copyright Mischief & Mouse